Welcome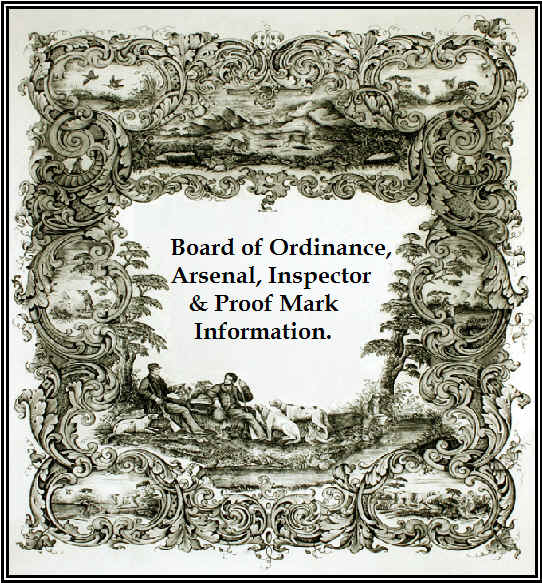 Thank you for visiting our on-line listing of manufacturers identifying marks, referred to more commonly as "Proof Marks", "Arsenal" or "Inspector Marks". We have provided you with this information in an attempt to clear up some wrong information that we have found on this subject. After years of looking at and trying to identify antique arms from different parts of the world, we decided to share our findings by this means of communication.
Again, thank you for your continued support, encouragement and admonishment.
I remain your obt servant,
Buck Conner
____________________________________
Proof Marks, Arsenal & Inspector Marks
In addition to arsenal marks, you will find other marks or stampings. These include the date, serial number and property marks as well as various acceptance and proof marks. I have not been able to locate an authoritative resource for identifying the acceptance and proof marks as it appears, many individual armorers and inspectors used their own unique stamps in some cases.
Testing the gun barrel began as a means to insure its safety and integrity. Board Of Ordinance and Proof Houses were established by law in almost every country requiring that weapons sold within the respective country, and for exports be able to withstand a proscribed load without damage. Once tested and successful the weapon was stamped with a seal to acknowledge the testing - called "Proof Marks". These marks tell the country of origin of the weapon. Proof Marks or "Proofs" as they are sometimes referred to have changed over time, therefore assisting in dating the arm.
Some older foreign manufactured firearms, such as pistols from Spain and Italy, will list a location, rather than a manufacturer. These firearms are cottage industry type weapons without a specific brand name. The examiner must rely on proof marks when trying to identify these firearms. Military firearms can be difficult to identify because they typically do not have a caliber designation; symbols and codes are used to identify the manufacturer. Measuring the bore diameter and chamber will normally provide the information needed to make a caliber determination. Knowledge of commonly used military ammunition assists the examiner in determining the caliber designation of a military weapon.
There are a number of reference books that display proof marks and their meanings. Seen below are samples of Proof Marks of different countries.
____________________________________
We have just started to assemble this on going source of Proof Marks, Arsenal & Inspector Marks
This will be an on going source of Manufacturer Serial Numbers.
This website may not be reproduced, in part or in whole, without the written permission of '